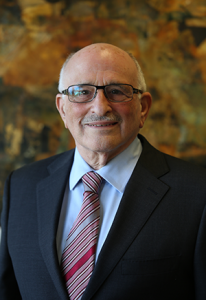 Stephen M. Losh, Esq. is a founding and Senior Partner at Losh & Khoshlesan, LLP. His practice focuses on real property insurance litigation and bad faith claims, real estate litigation, and commercial and business litigation.
Stephen began his legal career in Detroit wherein he was chief trial counsel for Metropolitan National Bank of Farmington and subsequently, Ross Properties, a large real estate developer. Stephen was also a Special Assistant U.S. Attorney in the HUD Program. Moreover, Stephen handled numerous criminal matters in Detroit as well, notably in People v. Jacob Serra; wherein he was responsible for getting the previous Michigan marijuana statute declared unconstitutional. On the Federal level, in United States v. Richard Brian Hahn, Stephen succeeded in obtaining a favorable outcome in the last Federal draft resistance case.
In 1987, Stephen relocated to California and continued to successfully handle and try hundreds of cases before judges and juries in California. Stephen's success also continued in California appellate cases. Particularly in Century-National Ins. Co. v. Garcia, et al., in which the California Supreme Court agreed with Stephen and held that an exclusion in a fire insurance policy precluding coverage for losses caused by the intentional or criminal acts of "any insured" did not apply to innocent co-insureds, because it impermissibly provided more narrow coverage than that statutorily mandated for fire insurance policies under the California Insurance Code.
Stephen has also served as a Pro Tem Small Claims Judge in Van Nuys, a Pro Tem Traffic Judge in Downtown Los Angeles, as well as, a Volunteer Settlement Conference Officer for Honorable Judges Robert I. Weil and Richard G. Harris.
Stephen attended the University of Michigan where he received both his undergraduate degree in 1960 and his Juris Doctorate in 1963.
BAR ADMISSION
State of California
U.S. District Court, Central District of California
U.S. District Court, Southern District of California
U.S. Court of Appeals for the Ninth Circuit
U.S. Court of Appeals for the Sixth Circuit
U.S. Supreme Court
PRACTICE AREAS
Real Property Insurance Litigation and Bad Faith Claims
Real Estate Litigation
Commercial and Business Litigation
MEMBERSHIPS
California State Bar
American Bar Association
Beverly Hills Bar Association
Consumer Attorneys Association of Los Angeles